So, last week I accompanied a contemporary art history seminar class to New York for a long weekend that promised to be full of eye candy and delights. And it was. After what I estimated to be 9 hours of Chelsea gallery meandering, a full day of the Whitney (although sadly without a view of the current Gordon Matta Clark exhibition due to unfortunate timing) and MoMA, followed by another day of museuming at DIA: Beacon (which I must say has made me come around to many of the minimalist sculpture that I had previously brushed aside during many an art history class) I think it is safe to say, on reflection, that the highlight of the trip was, by far, the Jeff Wall exhibit at MoMA.
My favorite piece from the exhibit (as if I could choose one, which led to the purchase of a rather expensive book I could not afford) was his 'Picture for Women' from 1979.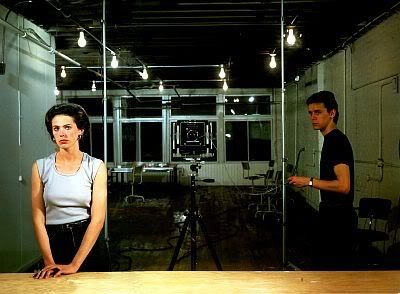 The most interesting thing about his work was that he was so aware of the historical context in which he was creating his images. 'Picture for Women' is such a well done reworking of Manet's piece 'A Bar at the Folies-Bergères' (1881–82), but does it in a way that avoids being overly referential and is simply a beautiful hommage to the Manet. The entire show was filled with wonderful examples of this. Wall's work is very aware of itself, but in that is very careful to reconsider the work to give it a modern context. All of his works can easily fit into traditional genres of still-life, historical, and portraiture but none of them seem dated or cheesy. His ability to revise those traditional categories created work that still seem relevant today, both in an art historical context and in general pop culture. Wall's depiction of an eviction in a lower middle class suburb speaks wonderfully to this in that he uses the same monumental scale as historical paintings and a similar active narrative, but the subject matter is profoundly contemporary. I think that was perhaps the greatest feat of Wall's work was his ability to fill every work with a sense of contemporary society, chock full of literary and historical illusions but never to the extent that they overpowered the work and became its focus. Every piece was filled with exceptional attention to detail and little treats if you observed each work long enough. If anything his meticulous attention to detail reminded me of a Kubrick film in its subtelty. Every photograph was enough in itself a well composed and thought out composition and idea. But, within that every element held imformation that illuminated the intent of the imae even further.
More to be said on the wonders that I came across through gallery hoppings later, but for now, adieu.